The rescue boat "The Norwegian Veritas" is now testing a drone in order to improve the ship's efficiency during search and rescue operations.
BALLSTAD, Norway:
The Norwegian Rescue Society has been equipped with an AltiGator drone which is now being tested by the crew of the rescue boat "The Norwegian Veritas" in Ballstad (in the north of Norway, Lofoten islands).
We came with the idea in 2008 and now we are working on a project where we will test whether drones are appropriate to use in search and rescue operations, says Bjorn Vidar Evjen from "The Norwegian Veritas". He leads the project and is also the one who writes the user manual.
image: Kai Nikolaisen
Operating license
We are now working to complete the application for an operating license shall be submited to the Luftfartstilsynet (The Norwegian Civil Aviation Authority, CAA). We have good dialogue with Avinor on Leknes Airport , says Evjen who along with skipper Fred Tonny Hansen has attended a drone training course given by the drone manufacturer.
The drone, built by AltiGator, is about 80 centimeters in diameter, has a flight time of 30 minutes and can reach a maximum height of 300 feet (around 91 meters). The drone is operated by two men and is equipped with a conventional camera and a thermal imaging camera. Evjen says that his team strongly believes the drone can be a very effective tool during search and rescue operations.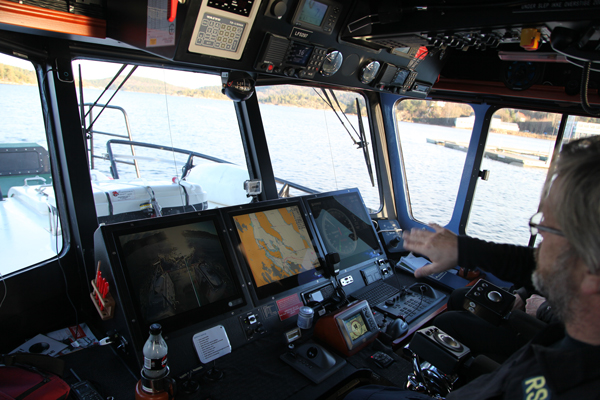 Highly valuable
Usually, we sit low and it is difficult to visualize. With the drone we get a completely different view. Since we also have the thermal imaging camera, we get a wonderful overview, and we can cover a considerably larger area, says Evjen who believes the drone can be especially valuable for beach safety operations.
When working in the open sea where it can be difficult to visualize, we can search across a large area in a short time, he notes.
"Follow me"
He says that the drone here also has a "follow me" function. That means if we go at 12 knots, the drone drone follows us at the same speed. When the battery capacity reaches a critical limit, the drone automatically comes back, says Evjen. It's not just a remote device working alone as they can see live video recordings.
Other agencies, such as Hovedredningssentralen (The Joint Rescue Coordination Centres, JRCC) can connect themselves in order to see live pictures. It may also be valuable during operations.
The Red Cross of Tromso has approved a drone for searching. We will now test this device out and we'll see if the conclusion is that the rescue company should go for it. The technical development is growing incredibly fast and within a few years it is quite sure that both drones and battery capacity will be completely different from today's ones.
So far there is no doubt that the drone has the potential to be a very useful tool during search and rescue operations, says Bjorn Vidar Evjen.
Great potential
The officer in charge of rescue leader at JRCC, Oyvind Aadde, says that a great potential can be seen in the use of drones.
There is clearly great opportunities and great potential.
We are very excited about this project. However, a very advanced legislation must be put into place before we can use this great safety equipment, says Aadde.
Translation of original text written by Kai Nikolaisen